Bauer Supreme Advanced Series Grip Composite StickSenior
---
Bauer Supreme Adavanced Series 
EASIER TO LOAD ALL SHOTS
LIGHTEST SUPREME STICK EVER CREATED
REVOLUTIONÄR SHAPE
MAXIMUM PUCK ACCELERATION
BLATT
FASTCORE BLADE TECHNOLOGY COMBINES THE BEST BLADE CORES TOGETHER. THE OUTER EDGE IS A LIGHTWEIGHT, CRISP FOAM TO REDUCE WEIGHT WHILE THE STRIKE ZONE USES A SOFT CORE THAT MAXIMIZES PUCK ACCELERATION IN ALL SHOTS.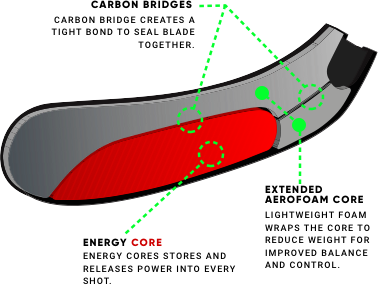 SONIC TAPER
USING GEOMETRY TO IMPROVE PERFORMANCE.
THE SONIC TAPER REMOVES EXCESS CARBON LAYERS TO REDUCE WEIGHT AND IMPROVE ENERGY FLOW FROM HANDLE TO BLADE IN ALL SHOT TYPES.
WEIGHT
ADVANCED CARBON LAYERING + SONIC TAPER COMBINE TO CREATE THE LIGHTEST SUPREME STICK EVER BUILT AT 375 GRAMS - 40 GRAMS LIGHTER VS THE 2S PRO.